Vorig jaar schreven we over de Paas-rally van de protestantse Christenen in Nepal. Die werd ook dit jaar weer gehouden. De protestantse kerken in Nepal hebben weinig liturgisch besef. Van een veertig dagentijd of een stille week hebben ze nog nooit gehoord. Daarom zijn we in deze tijd een paar keer naar de Rooms-Katholieke kerk geweest. Onder andere op Palmpasen en in de Paasnacht.
De Rooms-Katho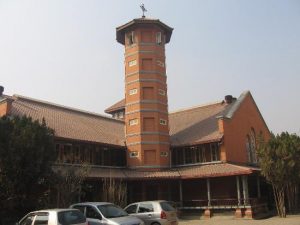 lieke kerk heeft de oudste wortels in Nepal. Al in 1626 verbleven 2 Jezuïeten een maand in Nepal. Vanaf 1715 waren er RK missionarissen in Nepal. Het waren Kapucijner monniken die vrijelijk het evangelie mochten verkondigen. Ze mochten zelfs kerken bouwen. In 1760 werd de eerste Assumption kerk gebouwd in Lalitpur ten zuiden van Kathmandu. In de zestiger jaren werden de aparte koninkrijken van Nepal samengebracht tot één Hindoe rijk. In 1769 werden de priesters verzocht het land te verlaten, omdat de heersers hen verdachten van spionage voor de Engelsen, die de baas waren in India. Van 1810-1950 was er geen  Christelijke presentie in Nepal. Nepal was al die jaren een gesloten koninkrijk. Pas in 1951 gingen de grenzen weer open. Toen kwamen er ook weer missionarissen en z
endelingen in Nepal. In 2006 werd Nepal van Hindoekoninkrijk een seculaire staat met godsdienstvrijheid, hoewel openlijke evangelisatie bleef verboden. In die tijd werden door fanatieke Hindoes twee bomaanslagen gepleegd op de katholieke kerk waarbij enkele doden vielen. Terwijl de protestantse kerken sterk groeiden (van 0 tot 1,5 miljoen in 2015) groeide de RK kerk veel minder. Er zijn nu misschien 10.000 RK leden. Nepal is een eigen kerkprovincie met een bisschop. Er zijn in Kathmandu een paar grote katholieke scholen waar ook les wordt gegeven
door religieuzen. Ook heeft de katholieke kerk een eigen hulporganisatie, Care Nepal.
Daarnaast zijn er  zusters van de orde van moeder Theresa die een verpleeghuis hebben opgericht  Het is bestemd voor ouderen die lichamelijk of geestelijk gehandicapt zijn en niemand hebben om voor hen te zorgen. In de kerk zijn de zusters te herkennen aan de witte sari met de blauwe bies die ook moeder Theresa droeg.
De dienst in de Paasnacht werd door honderden mensen bijgewoond. Er werd buiten gestart rondom een vuur, waaraan de (zelf meegebrachte) kaarsen werden aangestoken.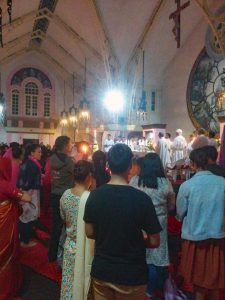 Binnen werd de dienst voortgezet met Bijbellezingen en gebeden en bevestiging van de doop belofte. Ongeveer zoals we dat op stille zaterdag in Poortugaal ook vieren. De dienst duurde al met al minstens twee en een half uur. Het meeste was in het Nepalees, maar omdat we de structuur een beetje kenden konden we toch veel meemaken. Vooral het zingen was heel uitbundig; echt Pasen.