Een tijdje geleden zijn we in Bandipur geweest. Daar moest je geweest zijn, zei men. En daar hadden ze gelijk in. Het is echt een bijzonder dorpje. Dat komt vooral door de Newari stijl van de gebouwen. Dat is verrassend omdat de Newari's de bewoners zijn van de Kathmandu vallei, zo'n 140 km naar het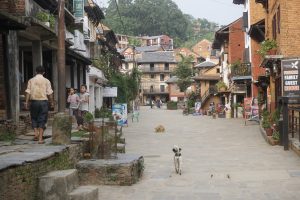 oosten.
Dit Newari dorpje ligt verscholen in de  bergen op twee derde van de afstand tussen Kathmandu en Pokhara. Dat betekent 5 á 6 uur met de bus naar Dumre en dan nog twintig minuten met de taxi of jeep omhoog de bergen in. Het dorpje is gesticht door Newari handelaars afkomstig uit Bhaktapur als een handels knooppunt op de handelsroute van India naar Tibet.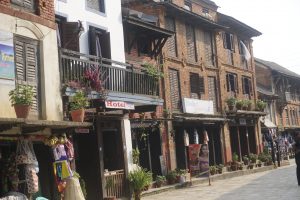 Van 1854-1951 beleefde het plaatsje zijn bloeitijd. Toen in 1970 in de vallei de hoofdweg van Kathmandu naar Pokhara werd aangelegd verloor het dorp zijn betekenis. De bevolking liep terug en het werd een soort spookstad met vervallen huizen. Maar de toenmalige burgemeester vond dat er wat aan gedaan moest worden en langzamerhand werd het dorp opgeknapt. Wanneer je nu de hoofdstraat van Bandipur binnen komt, weet je niet wat je ziet. De hoofdstraat is helemaal gerestaureerd, waarbij de authentieke Newari stijl is bewaard gebleven. De straat heeft aan een kant een h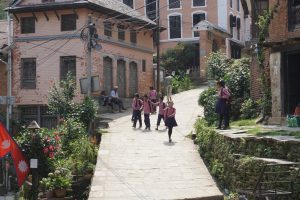 oge stoep met een houten veranda over bijna de hele lengte van de straat. Aan beide zijden van de straat zijn hotels en restaurants, wat winkeltjes en veel bloeiende planten. De bestrating bestaat uit natuurstee en is erg schoon. Het centrum is helemaal voetgangersgebied, dus geen auto's, motoren of fietsen. Er zijn in en rond het dorp een paar tempeltjes.
De enige andere bezienswaardigheid is de 'Siddha Cave' de  grootste grot van Nepal, met druipsteenkolommen en een chantende monnik. Om er te komen moet je via een smal paadje een paar honderd meter afdalen. Dat voelden we nog dagen later aan onze been spieren. De camping waar we logeerden lag op de top van een berg met een steile helling naar beneden. Je kon daar
vandaan Dumre en de rivier in het dal zien (700 meter lager). Als het helder weer is kun je ook de hele Annapurna range van de Himalaya's zien. Wij hadden dat geluk echter niet.