In Kathmandu is een dicht netwerk van openbaar vervoer. Er zijn tempo's: de Nepalese variant van de tuk-tuk,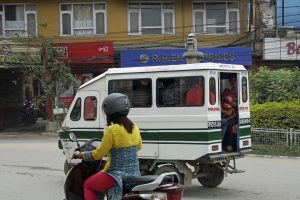 micro's: 10 of 12 persoonsbusjes en gewone bussen. Allemaal zijn ze vies en oud. In Thamel, het toeristengebied rijden ook nog riksja's rond, een soort fietstaxi's.  En, niet echt openbaar vervoer maar toch: op veel straathoeken staan kleine witte Suzuki's, taxi's te wachten tot een bidesie (buitenlander) van hun diensten gebruik wil maken.
Margreet gaat met het openbaar vervoer naar de Universiteit, tenzij het hard regent of ze veel bagage heeft, dan wordt het een taxi. Maar normaal loopt ze naar de rondweg dat is minder dan 10 minuten lopen, en stapt ze daar op de bus. Bushaltes zijn niet herkenbaar, je sluit je aan bij een groepje dat al staat de wachten of wuift naar de bus die er aan komt. Over de rondweg rijdt elke paar minuten wel een bus de goede kant op. De bus zit zelden helemaal vol en er wordt vaak opgestaan voor ouderen. Op Satdo Bato, een belangrijk knooppunt van de rondweg moet Margreet overstappen op een " micro", een 10/12 persoons busje waar met gemak, zeker in de spits, 20-25 mensen in passen of aan de buitenkant hangen.
Dit laatste is verboden dus als er een agent in zicht is moet de schuifdeur dicht en legt de chauffeur zijn gordel voorlangs. Het systeem van micro's is gewoon simpel: ze vertrekken niet voor ze helemaal vol zijn en pas dan komt er een andere micro aan die weer blijft staan tot hij echt vol is.
De regering heeft een tijdje geleden bevolen dat iedereen een zitplaats moet hebben in het openbaar vervoer. En er waren 2 dagen lang gewone grote bussen richting de Universiteit die vertrokken als de zitplaatsen vol waren. Een bus gaf zelfs kaartjes als betalingsbewijs. Helaas na 2 dagen was het over en namen de micro's de weg weer over. Bussen en mico's hebben " conducteurs" vaak jonge jongens die bij elke stop roepen in welke richting ze gaan en het geld innen bij het uitstappen van de passagiers. Ze communiceren met de chauffeur door op de bus te slaan ( 1 keer slaan is stoppen, 2 keer is wegrijden) of te fluiten.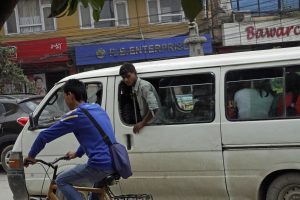 Tempo's zijn erg oncomfortabel in ieder geval op de vaak slechte wegen van Kathmandu. Je stapt achterin, aan weerszijden is een hard bankje waar 4-5 mensen op passen. Ook kunnen er nog 3 stoere jongens aan de achterkant hangen. Als je uit wilt stappen sla je een paar keer met je hand tegen het dak, afrekenen doe je bij de chauffeur. Wel zijn de meeste tempo's electrisch dus voor het milieu zijn ze prima.
Een rit met een bus, micro of tempo kost 15 roepies dat is ongeveer 12 eurocent. Margreet heeft een studentenkaart en betaalt maar 10 roepies per rit. Wel zijn er veel conducteurs die zo'n oude student niet geloven of proberen een truc met wisselgeld uit te halen. Gepast betalen is dus het meest verstandig. Al gaat het hier niet om echt grote bedragen.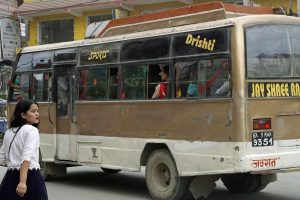 Voor de taxi heeft de studentenkaart geen nut maar de eerste keer dat Margreet met de taxi naar de Universiteit wilde vroeg de taxichauffeur 900 roepies, nu is 250 roepies het tarief waar de taxi's wel voor willen rijden. Eigenlijk moeten ze hun meter aan zetten, maar als je daar om vraagt komt er een onbegrijpelijk Nepalees betoog en verstaat de chauffeur spontaan geen Engels meer. Maar met de meter kost het ritje naar de Universiteit iets minder dan 200 roepies dus 250 is niet zo slecht.
Met het openbaar vervoer is Margreet in een half uur op de Universiteit, een taxi doet er 15-20 minuten over.